Feeding Minds Expo
On 5 May 2015 at the Richmond Town Hall, Women's Housing Limited hosted an Expo
The Mayor of the City of Yarra, Phillip Vlahogiannis opened the event.
The day was filled with giveaways, workshops and information sessions.
There were representatives holding stalls and guest speakers from COTA, WIRE, ERMHA, RDNS, Amy's Grains, Turning Point, Consumer Action, Beyond Blue, DVRCV and Women's Health.
The workshops included yoga, meditation, nutritional health tips, simple exercise tips, art therapy, stress management and conflict resolution.
Lunch and free hand, neck and shoulder massages were provided.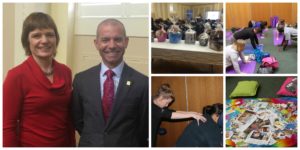 Some Comments
"Enjoyed the spread of activities and information"
"Loved the massage and the yoga and the food!"
"I had a wonderful time. Thanks!"
"Fantastic initiative. Liked the variety of topics covered"
"I found it great to be able to receive advice on most of my day to day problems"
"Women's Housing Ltd have always produced great newsletters. Interesting activities and events! Thanks for going strong. All the effort is really worth it. Thank You to Volunteers"
"Thankyou – wonderful space, well organised – very supportive, Very grateful to be involved. Art therapy was fantastic!"
Congratulations
Gina Poulos from Theodora's Cheerful Givers
For winning the Victoria Pride of Australia Medal 2014. Women's Housing Limited and many of our tenants are grateful for Gina's ongoing support.
Creative Energies
Art Display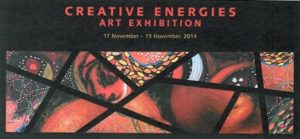 CREATIVE ENERGIES
With the support of Wombat Housing and Support Services, the tenants of Women's Housing Ltd presented a years' worth of creative endeavour. A visual art, ceramics and photography display was held at the Bluestone Art Space in Footscray.
Homeless Persons Week 4-10 August 2014
Anywhere but a bed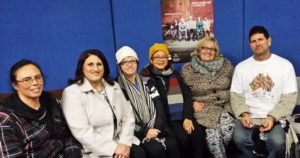 Homeless Persons Week is an annual themed week coordinated by Homelessness Australia to raise awareness of people experiencing homelessness and the surrounding issues.A 'sleep out' event was held during National Homeless Persons Week to raise awareness and highlight the difficulties faced by people experiencing homelessness.
More than 40 people from housing and support services, disability support services, youth and aged services and mental health support services attended a 'sleep out' organised by Peninsula Housing Network. Women's Housing Ltd was excited to be a part of this event, Lindy Parker, Operations Manager and Veronica Hunt, Housing Worker were two of the many sleeping rough on Tuesday 5th August 2014.
"Without affordable and secure housing it is very difficult for people to have wholesome and healthy lives, to hold down employment, to participate fully in education and to engage in community life. Housing is a basic and fundamental human right and we should never lose sight of this," said councillor Antonella Celi.
One Billion Rising
On 14 February 2014 members of staff at Women's Housing Limited attended the One Billion Rising event at Federation Square in Melbourne.
The event is part of a global movement which uses music, dance and joy to protest and say NO to violence and exploitation experienced by 1 in 3 women around the world.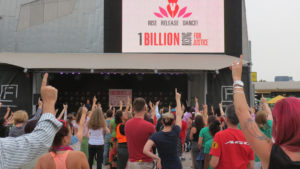 For more information on the event please see link below.
MR One Billion Rising Feb 14 2014
Christmas Hamper
December 2013
Susan Zielin, Initial Assessment and Planning Outreach Worker, had a wonderful idea "let's do a Christmas Hamper for the tenants".  With generous donations and support from the staff at Women's Housing Ltd, four overflowing hampers were created.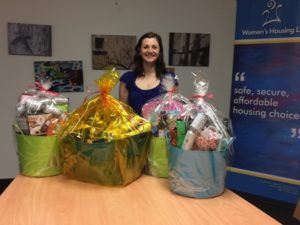 The hamper was drawn on 10 December and all winners were notified.


Thanks Susie and all the staff at Women's Housing for getting behind such a great idea!


Official Opening Of Bentleigh
The Hon Simon Crean MP
State Member for Hotham
The Hon Wendy Lovell MP
Minister for Housing
Minister for Children and Early Childhood Development
The Hon Elizabeth Miller MP
State Member for Bentleigh

Members from Women's Housing Limited and several tenants attended the Official Opening of the Bentleigh Community Housing Project. Representatives from Pellicano Builder, The Housing Registrar and The Victorian Police Force were also present.
Janet's Retirement
Janet volunteered at Women's Housing Limited since November 2000
She has been a valued and vital part of our organisation.
Every Monday and Friday come rain or shine she has turned up and used her skills and talents to assist all the different areas of our office.
Many of our Annual Reports and publications have benefitted from the contribution Janet has made with her proof reading and flair for grammar and punctuation. Through her attention to detail she has assisted the different areas keep their records up to date and our suppliers happy by making sure they were paid regularly.
I know we will all miss her and hope she will still make time to come and visit us often.