What's Happening at the Berwick Rooming House
Early May was a busy time at the rooming house with tenants benefiting from two different workshops.
On 4 May, Nigel Joseph from EACH attended the Berwick Rooming House to discuss the services EACH can offer regarding drug and alcohol use. EACH recognise that health and wellbeing is significantly and negatively affected by factors such as unemployment, homelessness, financial difficulties, social exclusion and addiction so they offer a wide range of supports to assist members of the community to lead happier, healthier lives.
On 11 May, Lisa Hansen from Casey North Community Information and Support Service attended the Berwick Rooming House to run a financial literacy workshop. Casey North CISS has a range of services and programs that have been developed to respond to the pressing needs of the local community.
The feedback from the tenants was very positive.
Thank you Nigel and Lisa for your time and support.

Senator Janet Rice
Guess who turned up on her bike to have a look at Women's Housing Ltd's new development…Senator Janet Rice.
Senator Janet Rice was in the neighbourhood and interested in our housing specifically for women at Newport. She is currently setting up a trust for green energy initiatives for housing.
Bayswater
The gardens at Bayswater are having a makeover thanks to the wonderful volunteers from the
Wantirna Seventh-Day Adventist Church
.
Women's Housing Limited believes a home is not just a roof over your head. With the valuable support from
Wantirna Seventh Day Adventist Church
we are able to provide additional services to improve the lives of our tenants and help them to feel safe and secure.
The project started on 15 April 2018 with volunteers redoing the watering system.
Then on 22 April 2018 the gardens at Bayswater were active again with more than 20 people helping to weed, plant, dig, shovel and just simply work hard.
Remarkable before and after photos...
Stay tuned for the final stage in a couple of week the gardens will be finished with a teen area and a children's playground.
Brave New World of Community Housing
On Thursday 19 April 2018 several staff from Women's Housing Ltd attended the CHIA conference: Brave New World of Community Housing.
"Our industry is playing an increasingly vital role in tackling Australia's growing housing affordability crisis at a time when the financing landscape is undergoing major changes and the impact of the Victorian Government's
Homes for Victorians
strategy and allocations framework is beginning to be felt."
Staff heard from, Derek Ballantyne, the man tasked with implementing Canada's $40 billion National Housing Strategy and about expectations of our social landlord role.
Staff were also there to support Anne Winters, a Women's Housing Ltd tenant, who agreed to speak at the conference. She talked about what she wanted from a landlord and what she got from Women's Housing Ltd.
Thank you Anne for once again supporting the Community Housing Industry and being a wonderful advocate for women suffering a housing crisis.
Newport Opening
On 19 March 2018 Women's Housing Ltd's Newport development was officially opened by The Hon. Marlene Kairouz MP, Minister for Consumer Affairs, Gaming and Liquor Regulation.   Wade Noonan MP, State Member for Williamstown also attended the opening.
This project was designed to deliver more affordable, long-term housing to women at risk of homelessness.  Located close to public transport, local shops and parklands, the development includes 20 new one and two bedroom dwellings for women and children, many of whom are escaping family violence.
The design by award-winning architectural practice, ClarkeHopkinsClarke and built by Buildcorp, prioritises the safety of tenants, while ensuring the apartments have the look and feel of a traditional residential home. Additional features include car parking, terraces and a number of apartments that have been designed to support ageing in place, reflecting the growing number of elderly women in housing crisis.  The project was funded by a $5.5m grant from the Victorian Property Fund.
CEO of Women's Housing Ltd Judy Line says
"The recent increased public awareness of violence against women has helped secure more funding for community housing projects"
Pictured left to right: Wade Noonan MP, Judy Line, CEO, Valerie Mosley, Chair, Marlene Kairouz MP and Bianka and Nyakong with Jak, tenants
Back To School…
It's that time of year again when our little ones put uniforms back on, pack school bags and get ready to learn.
But for us big people it can be overwhelming and stressful working out the costs associated with heading back to school.
The Ardoch Youth Foundation is a charity that helps disadvantaged children and young people reach their potential through education. The Ardoch Youth Foundation has produced a guide for parents and carers on how to manage and reduce school costs.
Download the Ardoch School Costs Guide 2018 here.
"While the aim of this guide is to help inform you about the different costs of education and assist you to manage these, we believe that the personal role you play in supporting children to learn is the most critical. By engaging in what children are learning, talking about the benefits of school and building positive relationships with people at your child's school you reinforce the importance of education, which will be the key to them having chances and choices in life." Ardoch Youth Foundation, Ardoch School Costs Guide 2018
Money For Jam Update
On 23
rd
 January 2018 Per Capita, in partnership with Women's Housing Ltd and Fitted for Work, launched the 
Money For Jam
App
 and mentoring program.  Over 30 women participated in the first workshop.  There was a buzz of excitement in the room all day.
"
I haven't been in a classroom for ages; great to be making new friends
"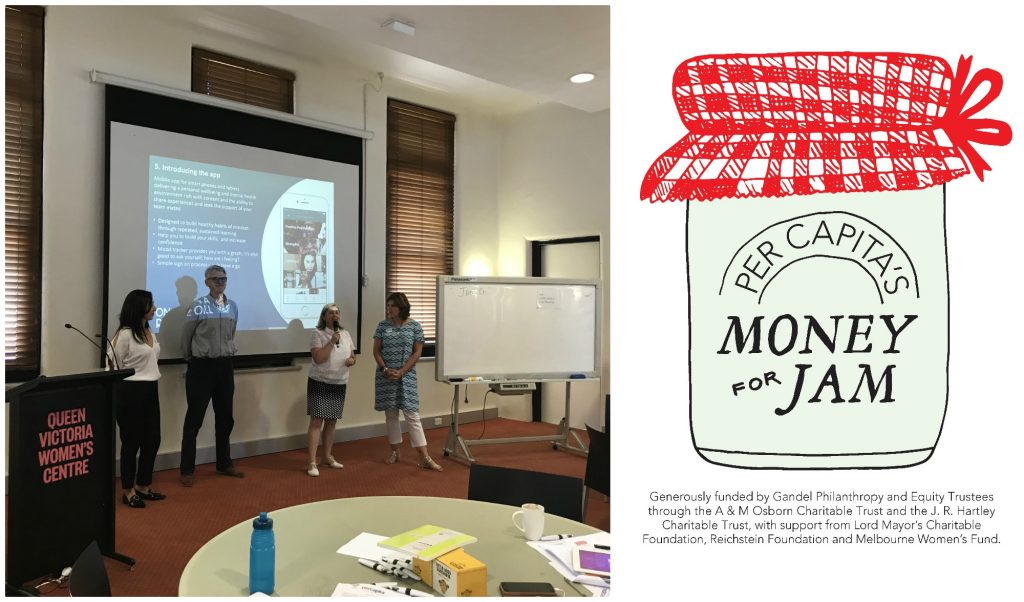 Money For Jam 
is a social innovation project specifically designed to address income poverty for older women.  The program is designed to help women over the age of 50 supplement their income.  Older women are increasingly at risk of homelessness and unemployment.  
Money For Jam
provides mentoring for women at risk of homelessness to turn their hobbies and passions into micro-enterprises.
At the first workshop participants were introduced to the 
Money For Jam App.
  The aim of the App is to make the 
Money For Jam
 program more accessible to participants.  The App allows participants to pace their learning, provides links to engage in further learning opportunities and offers a portal where the participants can support each other through the year long program.
"
The app was fun and so easy to use
"
Mentors have volunteered to support, guide and motivate participants during the year.  Some of the mentors were present for the first workshop.
"
I am really excited about 2018 – anything is possible
"
Per Capita developed the App in consultation with En Masse. The Brotherhood of St Laurence will evaluate the project.
For more information about the App or the 
Money For Jam
 project please contact Myfan Jordan by email:
 m.jordan@percapita.org.au
Newport Development
It's going to be a great New Year at Newport!
Christmas Is Coming!
With Christmas just around the corner Women's Housing Ltd invited tenants with children to visit the office and choose some gifts for under the tree.  There were toys, homewares, stationary, children's clothes and shoes, dignity bags and personal hygiene products plus much more.
There is still more available so if you are a tenant in need of some Christmas cheer please phone the office on 9412 6868.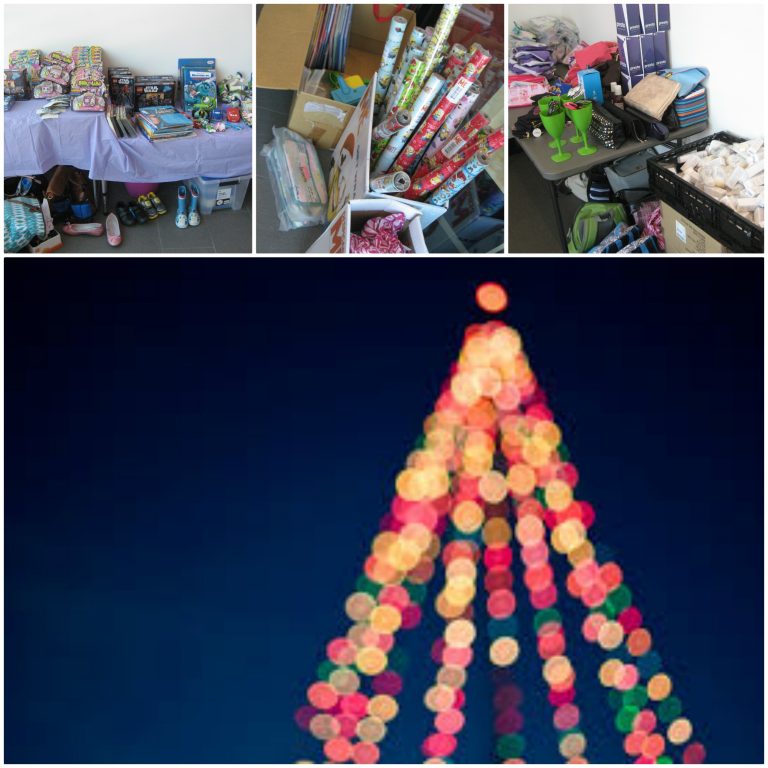 Women's Housing Ltd would like thank 
Share the Dignity
, 
Wild Pumpkin
 and 
Good 360
 for their donations and continued support.
Newport Development
The building is really taking shape!
With the roof on work commences inside!