Women's Housing Ltd Property Awarded Social Infrastructure Development of the Year
Women's Housing Ltd worked in collaboration with Urbanxchange to develop a 24 apartment complex in Bayswater. The development, that will house women at risk of homelessness and family violence, won the Social Infrastructure Development of the Year award at the 2020 Urban Developer Awards for Industry Excellence.
Designed by ClarkeHopkinsClarke Architects the one and two bedroom 6.6 star apartments offer abundant natural light and ventilation, 2.7 metre ceilings, generous living spaces, balconies, storage and upper-level views to the Dandenong Ranges. The project prioritises security while allowing the residents generous living spaces with optimal outlook.

A small office in the building permits Women's Housing Ltd and family violence support workers to deliver on-site assistance and programming.
"The women have established themselves here. We're located in the heart of Bayswater and there are nearby schools, childcare, shops and transport. The children have stability and they can go to school safely. It has definitely changed their lives." Tenancy Officer
Amos Matteri, ClarkeHopkinsClarke project leader, described the Urban Developer Award as a testament to the strong collaborative relationship that underpinned the development.
Bayswater shortlisted for 2020 UDIA Awards
UDIA Awards Winner 2018
Women's Housing Ltd's most recent development has taken out the 2018 Urban Development Industry Association's (UDIA) excellence award for outstanding design and development.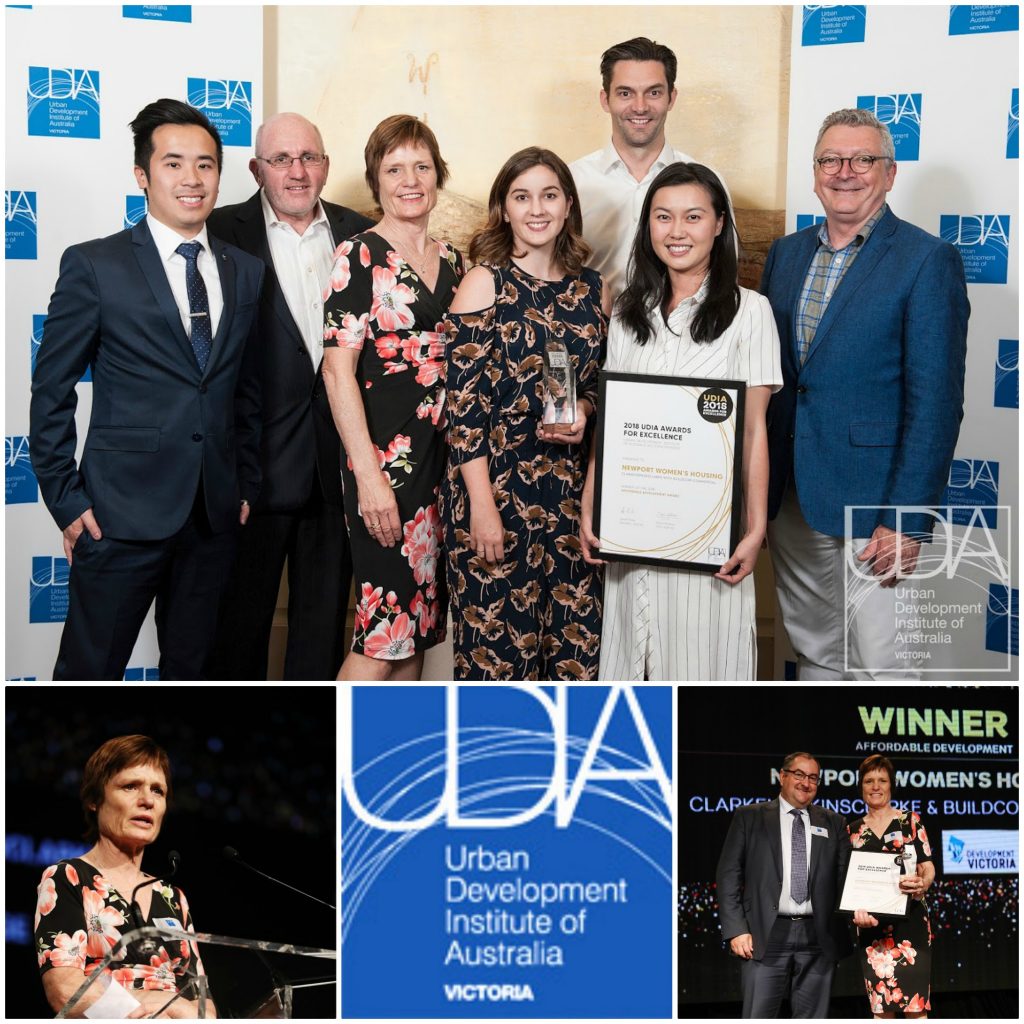 The Newport development incorporates many environmentally sustainable design features to help reduce the cost of living for residents, including energy efficient appliances, double glazing, minimum six-star NatHERS energy rating, the use of rain gardens and tanks for irrigation and water re-use.
The UDIA describes the 20-apartment complex as achieving 'good quality, affordable and safe housing for at-risk women-led households'.
'The overall complex evokes a feeling of comfort, security and peacefulness,' according to the UDIA.
The complex of spacious, private and contemporary one and two-bedroom apartments has been specifically designed for women and their children. Each apartment features flexible and functional living spaces with light-filled rooms that create a real sense of 'home'.
Tenant feedback has included comments on how lovely it is to live in a new and modern home that helps them to feel safe and secure. Tenants also say the property's close proximity to public transport, local shops, schools and green open spaces makes them feel connected to their community.
Women's Housing Ltd's CEO, Judy Line, accepted the award at the UDIA 2018 Awards for Excellence  ceremony in December 2018, along with the architects, ClarkeHopkinsClarke, and builder, Buildcorp Commercial.
ClarkeHopkinsClarke partner Toby Lauchlan says, 'Creating housing that gives residents a safe, long-term family home that is socially and financially sustainable was the most important consideration throughout the design process.
'Our desire was to move beyond "affordable housing" and design homes that people are proud to live in and that connect them to the community, which is vital to their quality of life.'
Judy says, 'It is wonderful that UDIA recognise our Newport development as a stand out design that is leading the field in affordable housing, but, to Women's Housing Ltd it means that we can house 20 more women at risk of homelessness.'
In other words, 20 women and their families are provided affordable, safe, secure housing that will present opportunities for them to rebuild their lives.
Women's Housing Ltd will continue to work with tenants, developers, architects and builders to find new and better solutions for women seeking affordable housing.
UDIA Awards Winner 2012
Women's Housing has won the Affordable Living category for the UDIA awards in Victoria.

Affordable Housing Project for Women Takes Off UDIA Excellence Award
In the words of the judges, "A worthy and much needed development…an excellent example of a successful 'Nation building' project."
To relieve disadvantaged groups within the community, Women's Housing Ltd has successfully helped to ease inequality and won the Affordable Living category for the Urban Development Institute of Australia (Vic) 2012 Awards for Excellence.
Through research and investigation, it was discovered those most likely to experience housing stress include; older women reaching retirement age with low superannuation, women with disabilities and women with young children unable to access appropriate childcare.
It is for these women that Women's Housing Limited provides homes:
Executive Director of UDIA Victoria, Tony De Domenico said, "The Women's Housing Limited Bayswater Project, which comprises 27 apartments, was intended to provide a welcoming and secure environment".
"The building incorporates environmentally sustainable design principles and robust, low-maintenance finishes and was an outstanding achievement for the Women's Housing Limited and project builder, Buildcorp."
"None of the tenants pay any more than 75 per cent market rent, thus allowing them to allocate resources to achieving financial sustainability."
Since 1997, Women's Housing Limited has been helping women claim their right to safe, secure, affordable housing choices by providing affordable, liveable, rental properties.
Judges Comments
A worthy and much needed development, this exemplifies the advantage of maintaining control over planning and good use of government leadership.
The project offers a good design response in relation to its main road location and it has the benefit of providing good size rooms, fit for their purpose. Corridors are light and generous, through good window positioning at the end of the hallways.
With most tenants sourced from the Office of Housing waitlist and paying no more than 75% of the market rental rate, the development provides safe and modern housing, close to amenity for people with specific needs.
The project builder, Buildcorp was an important part of the achievement of the development and worked closely with the project team to achieve a great outcome within the tight budget.
An excellent example of a successful 'Nation-building' project.
More About The Awards
UDIA 2012 Awards Recognise Outstanding Standard of Residential Development in Victoria.  The Urban Development Institute of Australia (Victoria) today said the winners of its annual Awards for Excellence for 2012 reflected the high standard of planning and construction in residential communities throughout Victoria.

The Awards are in their 17th consecutive year and are generally held to be among the best and most sought-after of their kind in the industry.Commenting on the 2012 awards UDIA (VIC) Executive Director Tony De Domenico said, "Residential projects in Victoria provided lifestyle opportunities which reflected a strong commitment to community development, environment and healthy living."