Ladies Let's Roll
Shebah
 is a driving service founded by women, operated by women drivers and designed for women passengers. Enjoy the safety and certainty of being part of an all-female network.
George McEncroe, a single mum of four, founded 
Shebah
 when she realised her daughter was concerned about her safety on the way home at night.
Safety and security for all women is important to Women's Housing Ltd and 
Shebah
 agrees. 
Shebah's
 all-female drivers have undertaken extensive background searches and safety checks to create a safe passage. Safety is a priority!
More good news is …whenever you roll with 
Shebah
 you will be making a difference! 
Shebah
 will donate 1% of all fares to charity. Women's Housing Ltd is proud to be one of those charities.
Koorie Services Expo
On 6 April 2017 Women's Housing Ltd attended the Koorie Services Expo.
The Expo showcased services and supports available to the Koorie Community.
Participants and attendees enjoyed a BBQ lunch while being entertained by the Koori Tiddas Choir and the Yappera Dancing Group.
Women's Housing Ltd hosted a stall, met many attendees, introduced our service to the Koorie Community and gave away lots of goodies.
"We were so grateful to have been included in the expo."
I'm A Celebrity Get Me Out Of Here
Tziporah has left the jungle!
Thank you to everyone that voted and
supported her on her wild ride.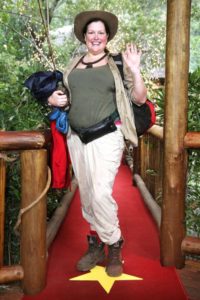 A big thank you to Tziporah for supporting Women's Housing Ltd!
Newport Development
On 2 November 2016, Minister Marlene Kairouz officially announced the re-development of Women's Housing Limited's Newport Community Housing property. This project will provide 20 new long term affordable housing units for low-income women including older women and women escaping domestic violence. This project is possible because of the contribution from the Victorian Property Fund.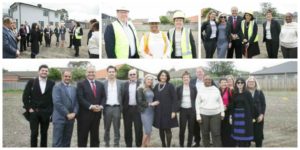 Minister for Consumer Affairs Marlene Kairouz was joined by Members for Western Metropolitan Cesar Melhem and Khalil Eideh to turn the first sod marking the start of construction on the apartments.  
"We're working to make a significant difference in the lives of women fleeing family violence by providing affordable, long term housing in an area close to the services and job opportunities they need."
Radio National
What's keeping Radio National Presenter Susan Ryan awake at night? It's the nightmarish image of Australians arriving at the end of a long and hard-working life to find that they have nowhere to live. In her insomnia she fears that our streets and parks will overflow with decent older people, sleeping on newspapers and cardboard boxes, people who have worked all their lives and yet they can't afford rent.
On 8 October 2016 Susan Ryan hosted Judy Line, CEO of Women's Housing Limited and Professor Peter Phibbs. The result was a timely, considered and important discussion. Radio National aired this discussion on "What keeps me awake" on 8 October 2016. Audio is available on the ABC homepage. Please click the link below.
What keeps me awake
National Volunteer Week
9-15 May 2016
We have a wonderful group of volunteers that help keep the Women's Housing Limited community development program fun and full of events.
Thanks to the City of Yarra we had an opportunity to thank Helene Levin (pictured accepting certificate from Mayor Cr Roberto Colanzi), Cheryl Widlend and Gina Poulos at an official ceremony at the Collingwood Town Hall on 10 May 2016.
We appreciate and thank all that volunteer their valuable time and expertise.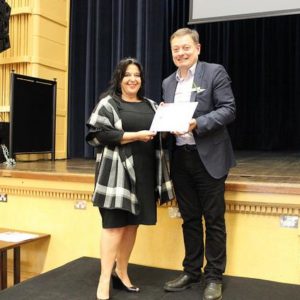 Centre For Applied Policy In Positive Ageing
(CAPPA)
Per Capita
is co-designing a facility together with a group of women 50+ that will help women to strengthen their financial position and find ways to make additional income through micro-enterprise. CAPPA called the project Money For Jam after one woman, who is already helping herself, described her income generating activity as making the difference between only having butter on her toast or being able to afford jam.
Money For Jam passed a landmark a couple of weeks ago when CAPPA convened a co-design workshop with a group of women, some of which are clients of Women's Housing Limited. The workshop follows on from thorough analysis of what women said to CAPPA during initial interviews, of what the gaps are in current services and what barriers they face.
Money For Jam passed a landmark a couple of weeks ago when CAPPA convened a co-design workshop with a group of women, some of which are clients of Women's Housing Limited. The workshop follows on from thorough analysis of what women said to CAPPA during initial interviews, of what the gaps are in current services and what barriers they face.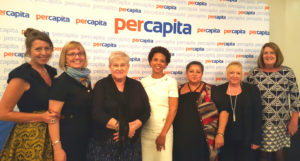 Through these invaluable contributions by the women CAPPA are now close to defining what the Money For Jam facility will look like and how it will help women increase their financial and emotional wellbeing. Shortly they will be testing the facility before broader roll out will commence, hopefully by the end of the year.
For more information please click the report below:
Per Capita Report – Money for Jam
International Women's Day
To celebrate International Women's Day, 8 March 2016, Women's Housing Limited invited Anne Sgro, President, from the Union of Australian Women to discuss the history of the organisation and what to expect going forward.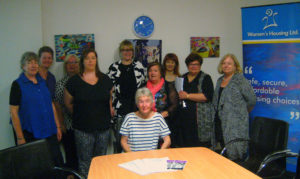 It was amazing to hear how The Union of Australian Women have advocated for women rights since they were formed over 65 years ago. They seek to improve the lives of women through focussing on issues of equality and social justice. They also highlight the often hidden role of women in Australian society, particularly women's contribution to its economic, social, cultural and political life.
Homelessness Prevention Week
3 August – 9 August 2015
As part of Homelessness Prevention week on 4 August 2015 Women's Housing Limited was involved in a 'sleep out' event to help raise awareness and highlight the difficulties faced by people experiencing homelessness.   Women's Housing Ltd was excited to be a part of this event, Lindy Parker, Operations Manager and Veronica Hunt, Housing Worker are two of the many that slept rough.
Representatives from housing and support services, disability support services, youth and aged services and mental health support services attended the 'sleep out' organised by Peninsula Housing Network.
Farm Gate Tour
On 19 March 2015 residents of the Mt Martha Rooming House went on a Farm Gate Tour.
In conjunction with Mornington Peninsula Shire Council, and with the wonderful help from Paula Johnson, residents of the Mt Martha rooming house visited some Peninsula farms, meet the farmers, learned ways of food production and purchased super cheap, super fresh fruit and vegetables straight from the ground, vine or tree.
Then in the spirit of "Paddock to Plate" Paula Johnson went home with the residents to assist with cooking ideas to make the most of the fresh food.