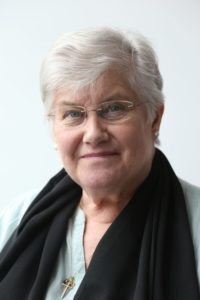 When I asked Anne to tell me her story she said to me "I don't want it to be a blame piece".  When you sit and talk to Anne it is obvious she doesn't blame anyone and her faith and optimism shine through.  I walked away from the conversation uplifted and positive.
Anne grew up in a predominantly Irish Catholic household in Cheltenham.  Her mother was addicted to prescription medication.  Fortunately, her father was the 'rock' for Anne and her sister.  However, from a very early age Anne was conditioned to caring for others.  She became a nurse and married at the age of 18. By the time she was 34 she was looking after two children, her sick, alcoholic husband and her elderly father while completing an Arts Degree at Monash.  In 1993 Anne had another battle, this time with breast cancer.  Anne fought this battle alone.
"I hit rock bottom after breast cancer.  I was lucky I got back up."
In 1995, Anne received some money through her tax return which she spent on a ticket to Thailand.  She fell in love with Thailand and then in 1999 went to teach English there.  Anne's face lights up when she talks about Thailand and it is clear she had a real connection to the people.  Her friends in Thailand gave her a nickname that she fondly uses now…Nong Chang (little elephant).  Elephants are strong, sensitive and intelligent Anne believes her Thai friends recognised these characteristics in her.  Anne stayed in Thailand for five years.  During this time Anne experienced greater independence and she saw this as a way to exit the relationship with her husband.
In 2004 Anne moved to Japan to teach English at a Catholic school.  She felt right at home.
It was in Japan that Anne was introduced to Al-Anon. Anne's life, from a very young age, has been surrounded by substance abusers.  Substance abuse or alcoholism causes chaos, and the focus is about looking after and supporting or enabling the abuser, but Al-Anon concentrates on caring for the carer.  Al-Anon's purpose is to help families and friends of alcoholics recover from the effects of living with someone whose drinking is a problem.  Anne has drawn a great deal of strength from Al-Anon.  Through her connection with Al-Anon, Anne gained the power to look after herself.
"I never knew I had the right to take care of Anne."
Anne's work life was spent in roles that were not geared to high income and with little or no superannuation she returned to Australia in 2012 with no financial stability.  Anne quickly realised there were no work opportunities for 60 year old women and no ability to obtain a mortgage.
"Where am I going to end up? What am I going to do?"
Anne was referred to Women's Housing Ltd by Centrelink Social workers.  When Anne moved into the Mt Martha Rooming House in 2014 she was feeling isolated, lonely and suffering from depression and anxiety. Anne's focused turned to getting well.
"I needed stability, security and time out to figure out what went wrong and how to make it better".
Anne found a good, empathetic and kind doctor.  She also tapped into the Mt Martha community, volunteering at a local school, visiting her local church and library and attending Al-Anon meetings.  She was fortunate enough to have been able to financially support a car so she got in the car and went out and about.  Anne enjoys looking after and walking other peoples' dogs, so she used that as a way to connect with the community and get her outdoors, motivated and moving.  Anne sees diet and exercise as an important step to staying mentally and physically well.
At times Anne has found living in a rooming house challenging, so many individuals with different needs and problems.  She loves the space and gardens but feels the lack of privacy when you live so close with others.  Anne has learnt to make her room her home this has helped her to maintain her privacy.  She has also built a fulfilling life outside the house which gives her purpose and a feeling of usefulness.  It helps that she feels supported, respected and heard by Women's Housing Ltd.
"It's funny where life takes you."
Over the years Anne has worked on herself and is proud to say she has become a rational, grateful and resilient person.  A favourite saying of Anne's is "Gratitude is the attitude".  This is significant to Anne and she repeated it many times through the interview.
Although Anne has worked through some tough times she is still positive.  She takes one day at a time grateful that her heart is still in tack.
"I feel very humble, I ask why me and not someone else, why did I get so much?"
Women's Housing Ltd are delighted to offer Anne her own apartment in Altona Meadows.  She faces this move with optimism, excitement and in a 'gratitude is the attitude' manner.