On 23rd January 2018 Per Capita, in partnership with Women's Housing Ltd and Fitted for Work, launched the Money For Jam App and mentoring program.  Over 30 women participated in the first workshop.  There was a buzz of excitement in the room all day.
"I haven't been in a classroom for ages; great to be making new friends"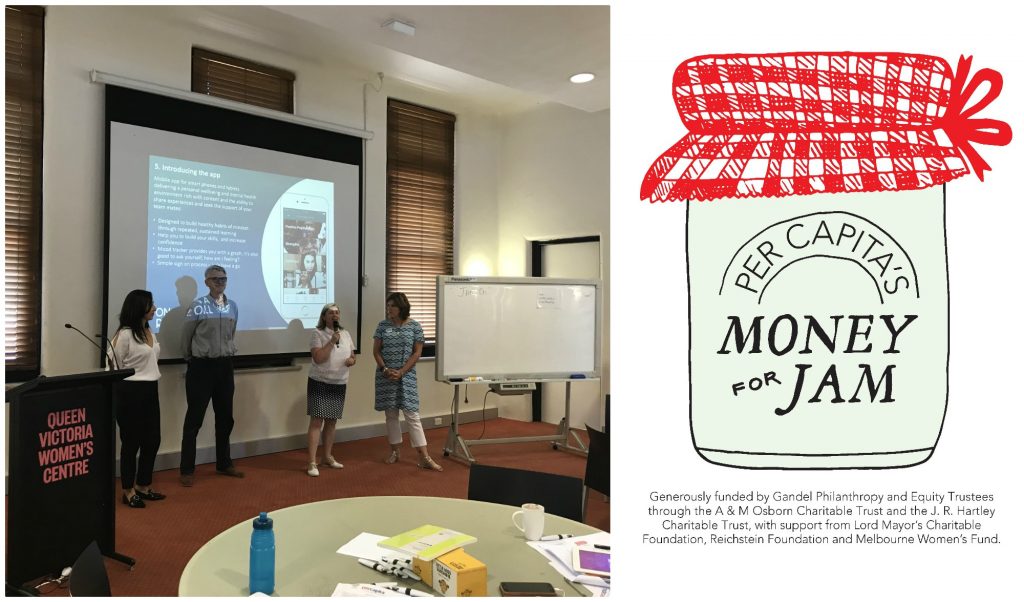 Money For Jam is a social innovation project specifically designed to address income poverty for older women.  The program is designed to help women over the age of 50 supplement their income.  Older women are increasingly at risk of homelessness and unemployment.  Money For Jamprovides mentoring for women at risk of homelessness to turn their hobbies and passions into micro-enterprises.
At the first workshop participants were introduced to the Money For Jam App.  The aim of the App is to make the Money For Jam program more accessible to participants.  The App allows participants to pace their learning, provides links to engage in further learning opportunities and offers a portal where the participants can support each other through the year long program.
"The app was fun and so easy to use"
Mentors have volunteered to support, guide and motivate participants during the year.  Some of the mentors were present for the first workshop.
"I am really excited about 2018 – anything is possible"
Per Capita developed the App in consultation with En Masse. The Brotherhood of St Laurence will evaluate the project.
For more information about the App or the Money For Jam project please contact Myfan Jordan by email: m.jordan@percapita.org.au