On 24 August 2018 Women's Housing Ltd gratefully accepted a generous cheque from Shebah, an all female ride share service. Shebah have a fleet of fabulous female drivers that enable women across Australia to access safe and convenient transport.
Not only has Shebah very kindly donated 1% of all fares to charity but they are also committed to supporting their women drivers to access economic opportunity by ensuring they keep 85% of their fares.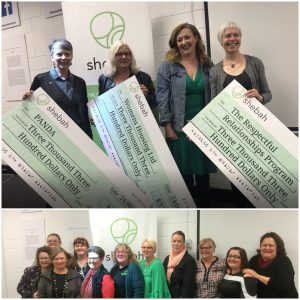 Top picture: representatives from PANDA, Women's Housing Ltd and NCASA accepting the oversized cheques from George McEncroe
Bottom picture: Some of the many Shebah drivers
Thank you Shebah for the many ways you are supporting women.